Mike Oldfield - Incantations (Exposed) live (1979)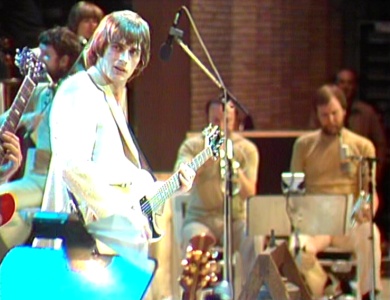 Michael Gordon 'Mike' Oldfield (* 15 May 1953 in Reading, England) is a British multi-instrumentalist, composer and songwriter.
He mixes elements of rock, ethnic and classical Music.
After a creative break of three Years (Hergest Ridge) another highlight in the successful History of this exceptional musician appears in 1978: Incantations.
 
In fact the listener is enchanted in the truest sense of the word while enjoying these 2 records (here uploaded to utube as a single DVD... the LP version came as double LP album).
What started in Tubular Bells (1973), Hergest Ridge (1974) and Ommadawn (1975) is completed on Incantations 1978.
 
All trademarks of a good Oldfield work are represented here in masses: a purely instrumental album (apart from some choir and vocal parts) with beautiful melodies, varied instrumentation (among others guest musicians contributed flute, African drums, string instruments, trumpet and vibraphones), as usual perfect guitar work with a feeling for atmosphere and crystal-clear sound (music as created for CD).

Here really every sound matches optimally and who really wants to listen to the background will be overwhelmed with some sound details.
A headphone album for the leisure-hours of Life.
Each of the four parts has its own song structure.
The overall experience is never lengthy.
The listener glides from one musical climax to the next and one can only ask oneself the question:
Where did this guy get all these ideas ?

parsifalrain, July 21, 2018 presenting rarified Music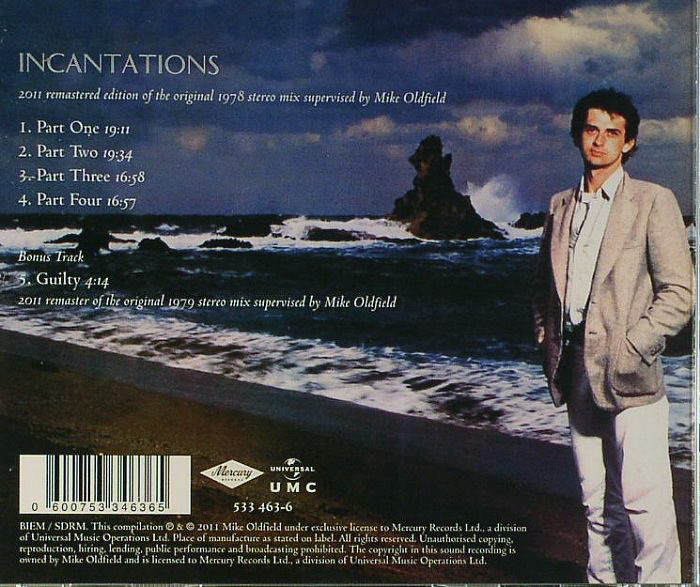 Special goose bumps:
Movement 1 begins with a fairy-like female voice, which is gradually joined by other voices.
After the gong builds up, the full keyboard, flute and string broad side is played.
Such an entry and song structure is simply ingenious !
There's a flute-like keyboard solo that goes straight to the heart !
The 2nd movement starts with ingenious keyboard playing tingling on the skin and increases to Oldfield's unmistakable guitar playing through a meditative string passage.
And this flute (Terry Oldfield) and then these choirs.
Awesome !

In fact, this music has a mystical, evocative, trance-like character, reinforced by the choir's ritual-sounding 'Diana' - the roman Goddess of Nature - and 'Luna' as the roman Moon-Goddess - invocations.
So that the emotional overkill doesn't take over completely, there are relaxed African drums with a calming female vocal part:
Maddy Prior's (– she's the singer with British folk-rock group Steeleye Span) angelic recitation of an excerpt (ca. at minute 27) from 'The Song of Hiawatha', a romanticising poem by the American poet Henry Longfellow, in which the vocals are practically only accompanied by various percussion instruments, is undoubtedly one of the numerous highlights of this album, but Oldfield's sister Sally and The Queen's College Girls Choir also enhance the record with their voices.
 
Part 3 is the liveliest of the four movements and offers Oldfield a lot of space to play his guitar sounds.
And when you think you can't carry on any longer (due to eargasms), everyone immediately realizes with the 4th movimento:
The master still has an ace up his sleeve (of course, every card game has four aces) !
The beginning sounds like a mixture of Middle Ages and New Age (brilliant !) and thereafter we experience vibraphones at their best !
Afterwards once more guitar in perfection.
I bought this album in 1978 and it still gives me cold shivers down the spine and tears of joy.
 
Conductor David Bedford
The album as a whole is unusual in that it makes extensive use of the circle of fifths as an accompaniment to many of the musical ideas. Since this musical structure requires that each idea be modulated through twelve keys, before the next is introduced, more time is required to develop each idea, so that each section unfolds more slowly than is usual in Oldfield's work.
A byproduct of this musical structure is that most of the album is not in any-one key, but cycles continuously through them all.
note - the event starts at 2:18 and the music ends at 53.07
in case the video is not available in the UK, watch it on my Yandex Disc https://yadi.sk/i/FzPiRThY3ZPNdy
this is not the whole album, the missing track 'Guilty' is here
related in BOLE